Flower Swap Complete
Wow, I really thought that those photos would have generated much more conversation than they did. Maybe my husband strapping on a red bra to another man in public really isn't all that uncommon after all. Hmm, go figure.
Anyway, I got a great package from Ulla in Sweden. She was my other flower swap partner from Crochetville. She sent me some awesome flowers and doilies that she made and a pretty flower bead which will become the center of a hemp anklet I will make. Her work is really beautiful. Both she and Jess made this a great swap and they are fantastic partners. If you happen to get them as a partner later, you are very lucky.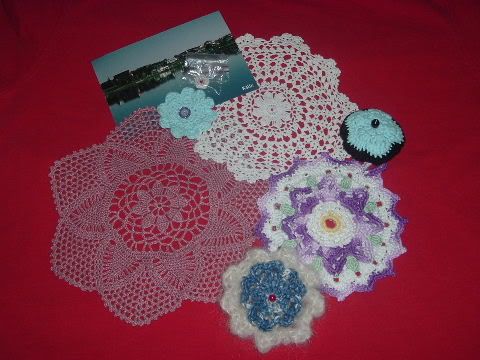 I'm taking a swap break for the early part of summer so I can enjoy some me time and some crochet for me time. I passed on the kitchen/bath swap but will probably be on board for the the next one.
I did finish my beach coverup top (although, my husband thinks I can just wear it as a shirt). It is pretty nice. Pictures tomorrow. I'm the only one here at the moment and so I can't very well take a photo of myself in it. I like to see garments ON the indivdual not just hanging or drapped over something. You can't really get the feel for the completed look unless it is on the intended victum. Ya know.
I swear to you I am almost done with the shrug (you thought I forgot about it didn't you). I completed the first sleeve yesterday, tried it on and am overjoyed that it not only looks great, but fits!! Now, on to the second sleeve. I can't wait to finish this piece and wear it. I have a ton of chores to do today (since beginning my job, you guessed it, the house work has seemed to triple; what the hell kind of math is that anyway?). So, any crochet will have to be done on the sly and while my conscience is asleep so that I don't feel guilty about all the dirty laundry piled up in the garage.
Okay, have a great day and please feel free to comment. It does no good to keep things inside. . .we were meant to express ourselves. That is my sick plea for attention (did it work?).
Peace~ DAWN
. . .the Fiber of Life
Name: DAWN
Location: Tennessee
Knit/Crochet Blogs

take me!


More Links




Join Me