Still no sign of the koi. It remains a mystery. I just hope he is happy, wherever he may be.
My son did get the program back up for the digital camera, so I can share some of my FO's with you. The photo of the scarves is just a tease. Not that I think my swappie even reads my blog, but you know you talk out there. You know you do. . .so it's just a close up of the stitches and yarn. I'm not mailing them off yet. I have my reasons. Okay, I'm not sure if I'm gonna add more to the package or not. Sending off scarves by themselves just isn't me.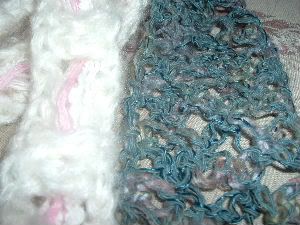 Next we have the Summer Shawl for 2005. The pattern link is in the previous post. My sons when they saw it on the camera thought it was a thong. They are teenagers, need I say more.
It is made from some knubby yarn that I got from handpaintedyarn.com. They have great yarn, but it is slow getting to you. Don't order from them if you are in a hurry, otherwise give them a try. Oh, the blue-ish scarf is done with the "lover's knot" stitch. My first try at it and I think I'm in love (hehe). It was a lot easier than I thought. I must have been having one of my interiority complex moments when I first saw this stitch and was intimadated. It was a snap. I will have to do it again on a larger project so you can really see the stitch. This scarf is only about 3 inches wide.
Proud mom moment ahead: My oldest is taking his girlfriend to the junior/senior prom on Saturday and yesterday he got his tux. Oh my God! he is so handsome. I will be posting pictures next week so if you have teenage daughters look out. That is all I'm gonna say, cause the pictures will speak for themselves.
Have a great day. Peace~
DAWN